Dear Sundae—Should I Exfoliate Before Or After Shaving?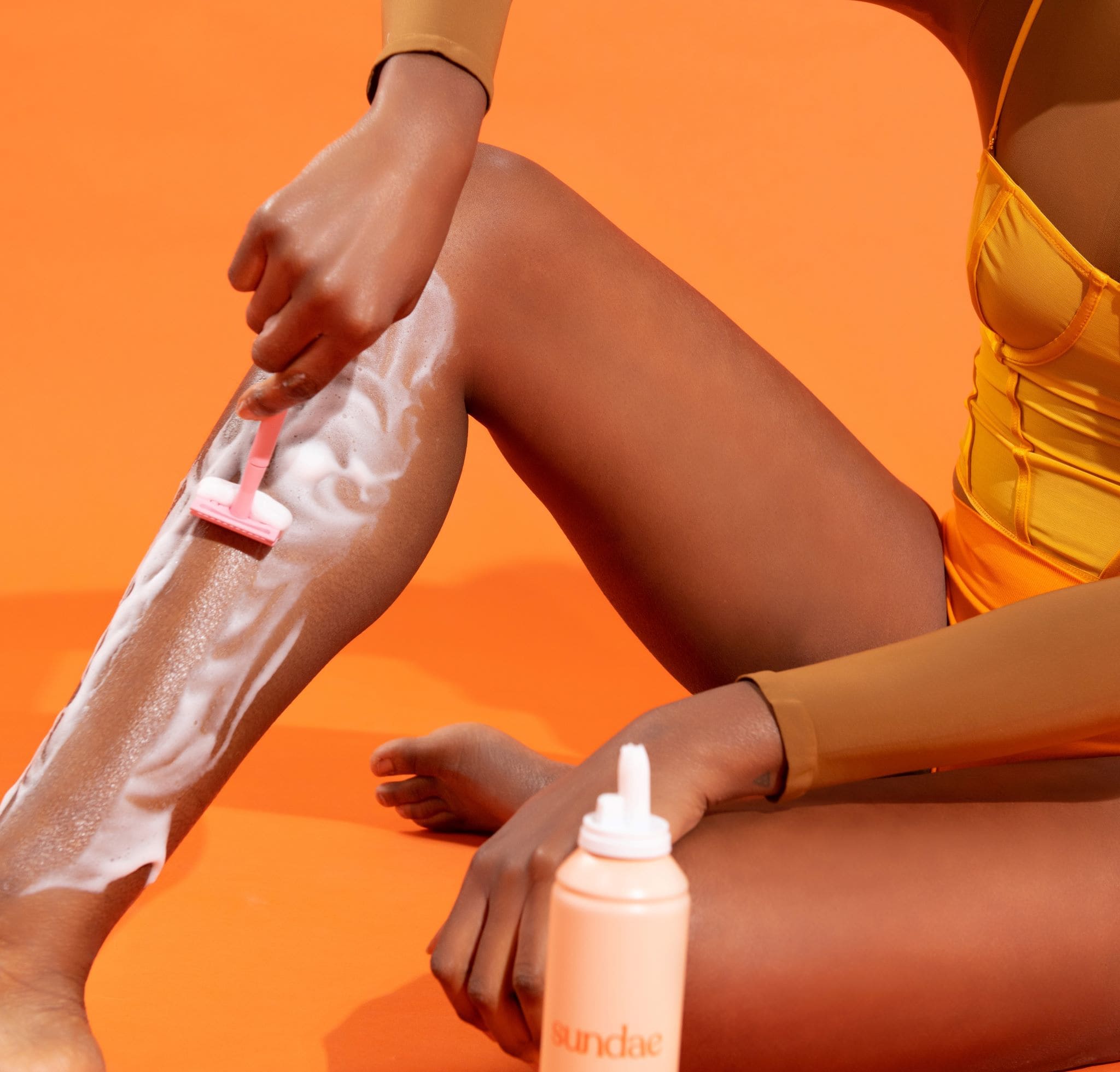 FACT: some of us prefer to let our body hair grow, and that's gorgeous. Also, FACT: some of us like to remove it, which is lovely. For those who dabble in hair removal—there are armfuls of smart strategies that help you achieve extra-soft skin, including moisturising, exfoliating, and shaving. Here are your most asked questions about how to ensure a safe shave for softer, smoother skin. We also cover whether you need to exfoliate before or after shaving, how to prepare your skin and what kind of post-shave TLC is best. Let's go! 
Which Comes First, Shaving or Exfoliating?
If you opted for the latter, the answer is yes, oui and si! Gentle exfoliation, which helps to buff and prepare your skin, is one of the most crucial steps in your pre-shave routine. The close second is singing along to SZA's new album while you do it.

Our bestselling Green Tea Exfoliating Body Wash contains Glycolic Acid—a gentle chemical exfoliant that helps to disintegrate dead cells and bacterial buildup, helping speed cell turnover to leave your skin fresher, brighter, and clearer, with minimised pores and lasting smoothness. Praise be.

Even better, you'll be less likely to develop those pesky ingrown hairs if you use an exfoliant a few days after shaving. This will eliminate dead skin cells and make the hair's growth journey less grinding on your follicles.
👉 We think you'll love: Sundae's Guide To Exfoliating Different Skin Types
But Do I Need To Use Shaving Cream?
Holy moly, yes, please. A barrier is formed between your skin and the shaving blades when you use a body care product, lowering your chance of nicks and cuts and preventing skin irritation.

Our Coconut Cream Whipped Shower Foam is ideal for cleansing and shaving, with additional Kakadu Plum; one of the richest sources of Vitamin C and Finger Lime; a natural source of AHAs that aids in restoring your skin's natural moisture barrier, giving you nourished, soft skin. Plus, it smells like dessert! 
Should I Dampen My Skin Before Shaving?
Totally. Although it may seem like a natural initial step, you must ensure that your hair is damp (dry shaving can cause tugging, which can lead to irritation and razor burn).
So before you pick up your razor, go in the shower or run a warm bath, relax for a few minutes, and apply a calming shower foam (we think our lush 
Juicy Pear
 is always a winner!) This soak will allow your razor to glide smoothly while the warm water softens your hair, making it easier to shave.
Do I Shave Upwards or Downwards?
You get the closest shave, aka the most seal-like finish, by shaving up counterclockwise to how your hair grows.
However, longer hair might irritate your skin, so start by shaving against the grain. Your most superb option for softer, smoother skin is to do the opposite after cutting the hair short.
After Shaving, How Should I Take Care Of My Skin?
Use a thick, silky moisturiser after shaving to lock in all the moisture from our whipped shower foams. As soon as you step out of the shower or bath, gently pat your skin dry with a towel (don't massage, as this can irritate it) and apply your preferred moisturiser.

Happy Sundae x
(Psst. We've got a Sundae for your every day. Create your own bundle and save up to 20%!)