Fancy Treating Yourself To The Most Relaxing Shower Ever?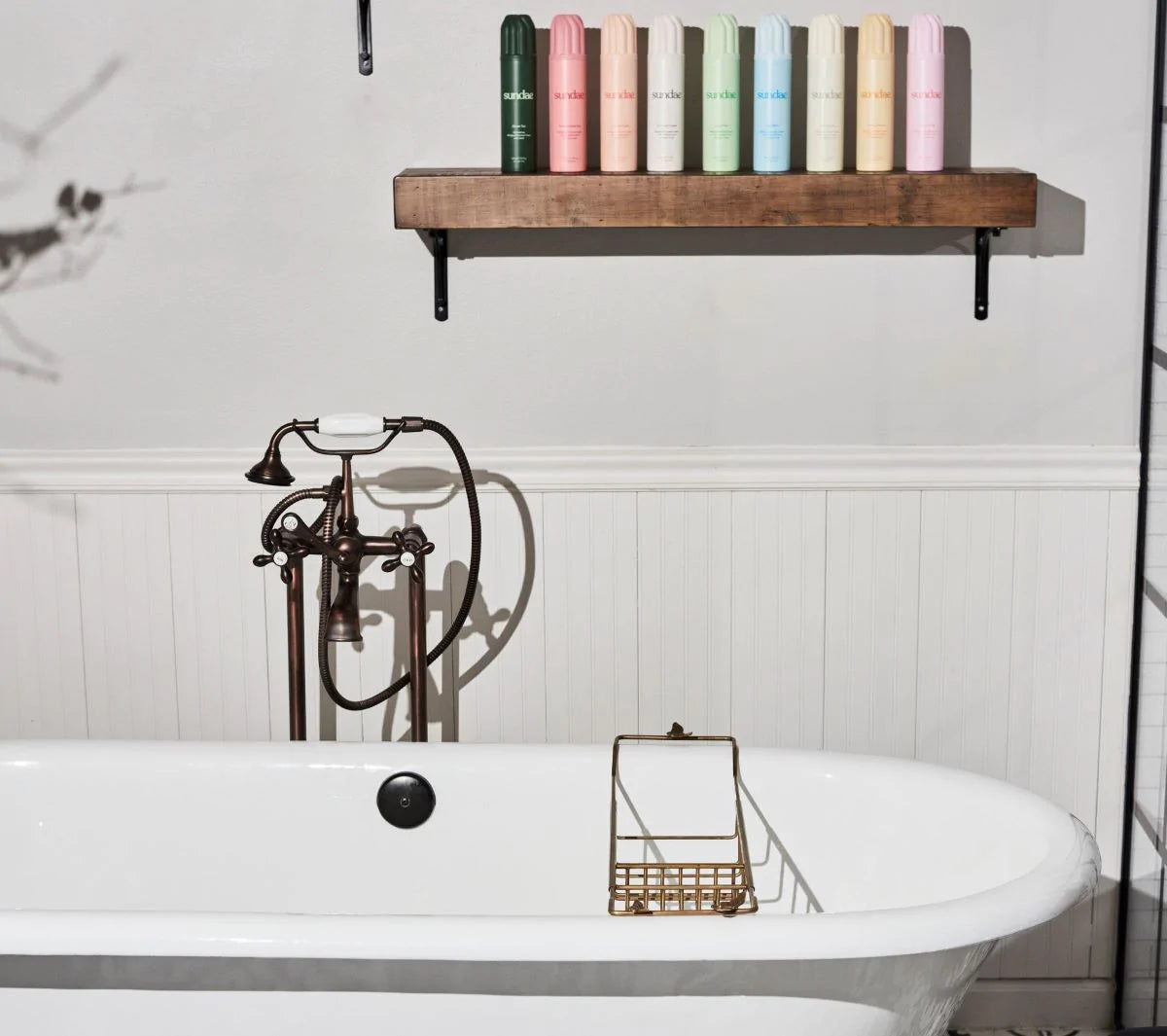 In a world full of constant stress, uncertainty and $8 iced lattes – taking a shower is no longer just a body bacteria-banishing task. Moreover, it's a way to take care of yourself by immersing your body and mind in a calm place where nothing hurts and no small children can find you – especially if you take your time and add a few extra steps that 
turn it into a full-fledged ritual
. Here are some tips on how to make your showers feel like a moment of relief and relaxation, with lighting, fancy smells and deliciously therapeutic skin-care products.
Here's How to Make Your Shower More Serene
Mood Lighting
Warm lighting encourages relaxation and helps to settle the mind, especially in the evening. Replace your harsh fluorescent overhead lights with a small accent light that creates a soothing, mellow glow.
---
Vibey Textiles
The easiest way to add a pop of serenity into your bathroom? Introducing a brand spanking new shower curtain. To avoid trips and tantrums, we suggest you seek a carefully made design that combines functionality and style and is machine washable. Depending on what aesthetics you are drawn to, pick a textile that speaks to your ideal vibe; light and minimal or something a little punchier, like big jungle flowers or unicorns.
---
Plush Fabrics
Investing in quality towels is a move we fully back, and the payoff they lend to your luxurious shower routine feels worthy in spades. Just remember: The higher the (GSM) number, the heavier the towel, the longer to dry, and the more luxurious you'll feel.
---
Strike a Match
A truly luxurious essential is adding your favourite fancy candle into the mix. Not only will it provide an indulgent aroma that makes you feel fabulous, but it will also add a welcome hue of candlelight ambience to set your mind at ease. Consider a scent profile that will reduce stress, like jasmine, lavender, and chamomile.
---
Dry Brush
Use a dry brush to gently massage your entire body in long, circular motions that move up towards your heart before getting into the shower. According to Ayurvedic philosophy, it is a meditative act of purifying and detoxifying the body. It also aids lymphatic drainage and improves circulation. Additionally, it aids in removing dead skin cells as the first step towards an all-over glow.
---
Set The Temp
Even though it's only natural to want to crank up the heat during the winter, it's best to stay away from scorching heat since it can harm the skin's moisture barrier. Dermatologists suggest you keep it mellow, with 38.3°C cited as the optimal temperature to prevent dry, irritated skin. (If you're feeling a bit adventurous why not brave a cold shower!)
---
In-scent-ivise
Consider using some aromatherapy behind the curtains once you've adjusted the faucet to the ideal warm temperature. For a natural aroma, hang a bouquet of fresh eucalyptus from your shower head, or add a few drops of your favourite essential oil into the tub.
👉 Extra Fun: Why We Love Taking Warm Showers 
---
Get Your Greens
Adding a gentle polishing body exfoliator will make for even smoother, softer skin. With special AHAs that gently exfoliate dead skin and clear out clogged pores, Sundae Green Tea will give your skin the detox it didn't even know it needed, leaving it feeling as good as new.  The same goes for your scalp: A cleansing scrub or exfoliating shampoo will aid in eliminating buildup to leave the scalp feeling refreshed.
---
Add Moisture
To give your muscles some additional TLC, seal in the moisturiser with a light, sinks-right-in lotion after towelling off. You might also use a mild body oil that contains moisturising plant oils to perform a luxurious self-massage.
---
Whatever your post-serene shower routine looks like – a gentle manicure, a face mask and an episode of the bachelor or an episode of your favourite true crime podcast – we hope you return to the real world feeling slightly more centred than you left it. Unless, of course, you add a glass of Pinot – which you totally should.
Happy Sundae x
Life's too short to go through the motions. Make everyday a Sundae & bundle to save up to 20% 👇
Build Your Own Bundle | Best Sellers Bundle | Feeling Frutti Bundle | Feeling Fresh Bundle