A Beginner's Guide To Everyday Body Care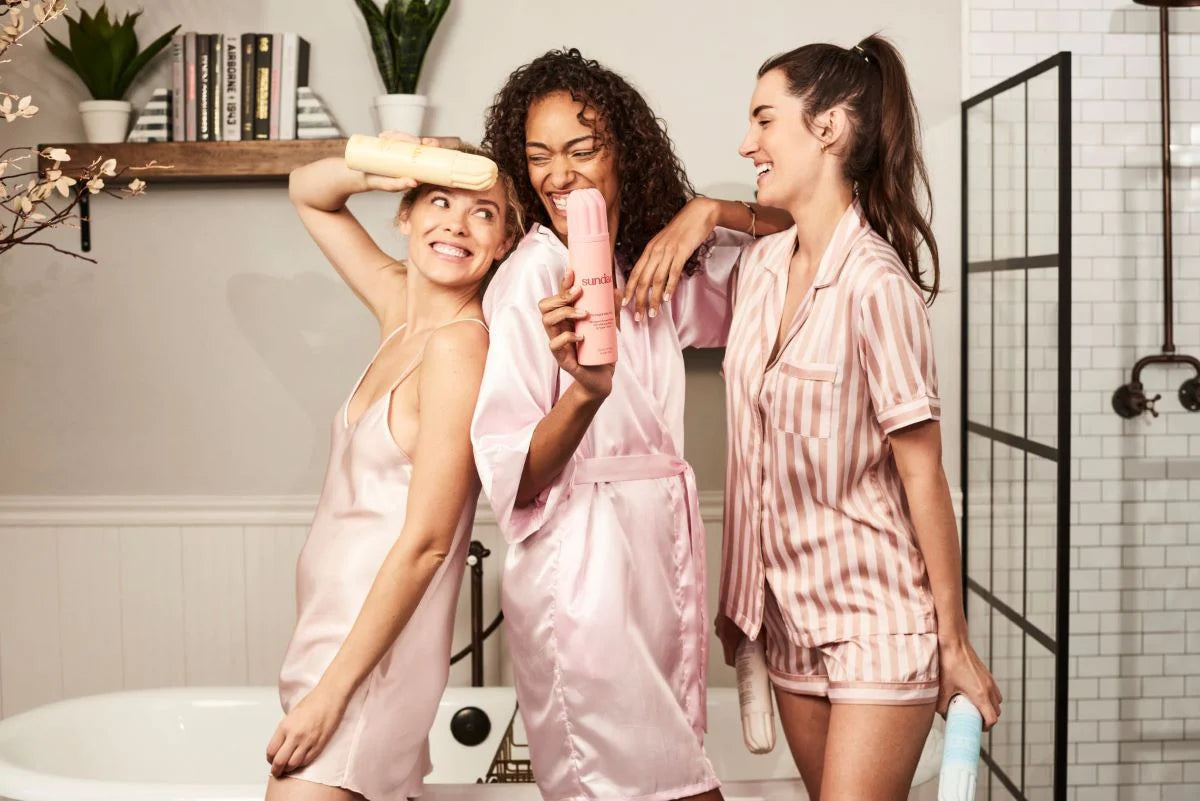 If you're anything like us, every day starts with applying a series of healing lotions, soothing serums, nourishing creams, and spritzy mists to the face. The end of our day ends much the same, oil cleanses, deep hydration masks and emollient moisturisers to lock in all the juice. But what about our bodies? Well, we think they deserve the same tender touch. Here's what you need to know to get that nourished, neck-to-toe glow. (And trust us, if you can abide by a face-care routine, this will be a piece of whipped-cream-covered sponge cake!)
How To Take Care Of Your Body Skin
Step 1: A Gentle Cleanse
Be mindful about what body wash gets to take up valuable space in your shower or bath. For example, your skin may get dry if you use harsh soaps like sodium lauryl sulphate, perfumes, or dyes. These might be the source of your skin irritation or allergic responses if you have particularly sensitive skin. Choose products with sodium lauroyl isethionate or another milder cleaner instead. Dermatologists also advise that you search for products featuring hydrating components like plant milk and natural oils. And yes, although those are the components that will undoubtedly also show up in your moisturiser, we've never been ones to shy away from a hydrating double dip. 
Alcohol is another item you should avoid, as some cleansers claiming to aid those with oily skin and body acne are highly stripping and may do a little more damage than good. If you are concerned about skin blemishes or oily body skin, our Green Tea shower foam features special AHAs that gently exfoliate away dead skin and clear out clogged pores.
👉 You'll LOVE: Body Wash 101: Everything You Need To Know
---
Step 2: An Even More Gentle Exfoliation
Fancy shedding dead skin, pollution and bad vibes like a snake? Just like when we exfoliate the skin on our face, an over-zealous application may lead to a broken body skin barrier, rashes, irritations or scarring.
Instead of a rough physical exfoliant that can cause micro-tears in the skin, we suggest looking for products with alpha hydroxy acids (AHAs) or beta hydroxy acids as an alternative to utilising a scrub (BHAs). The skin's surface is exfoliated by these acids, enhancing the skin's texture. Regular and gentle use of chemical exfoliations can improve your skin's appearance and treat your body acne more effectively than body wash alone by removing unwanted sebum from the pores.
---
Step 3: Hydration, Hydration, Hydration
You knew we would finish up here, right? To keep your skin healthy after all this cleansing and exfoliating, dermatologists insist you moisturise immediately after a shower. And, some lush news is that when it comes to the body, you can generally get away with using heavier substances like coconut or almond oil without worrying about closed pores and breakouts, unlike with your face. Nevertheless, if you experience body breakouts and bacne, you might want to stick to topical lotions or medicated creams.
When it comes to moisturising your body, we suggest you select products with tried-and-true moisturising components. Choosing creams containing ceramides and hyaluronic acid will assist in locking in moisture, as will those containing hydrating plant-based milk or natural botanical extracts.
---
How Should My Body Care Regimen Change in my 30s?
Find yourself in the 30+ club? Us too! There are a few little bio-changes to be aware of when building out our body care routine – mainly concerning a slower cell turnover rate. Skin cell turnover is the shedding dry, dead skin cells from the uppermost and outermost layer of our skin, known as the stratum corneum. To perk this natural process back into action – we think AHA's work wonders, which can again be #spotted in our Green Tea whipped shower foam.
So that's it: one body, three steps and a whole lot to gain. We think you're totally worth it.
Happy Sundae x
🎉Treat yourself to the most relaxing shower ever with our Best Sellers Bundle (... & save up to 20% on us!) 🎉
Or pick your fave flavours by building your own bundle 👇